Our bestsellers
Panino al tonno
The Pescaria sandwich
You can't say you know Pescaria if you haven't tried the sandwich with tuna tartare, burrata, fresh tomato, caper oil and basil pesto. This is not just a recipe, but a manifesto. To be eaten using your hands.
Ingredients
100gr. tuna tartare
Fresh tomato
Burrata
Caper oil
Gamberoni al ghiaccio
Spaceless and timeless
When you are asked to describe the things you love, in no particular order of importance, after eating your gamberoni al ghiaccio sandwich , you will answer: prawns, aubergine, bacon, chips, ketchup sauce and mayo. Pay attention to it.
Ingredients
170g lightly boiled king prawns
baked aubergine
fiordilatte mozzarella
santoro pancetta
potato chips
fresh rocket
homemade sauce with ketchup and house mayo
Panino al polpo
The Instagram celebrity
The first Pescaria sandwich to be photographed: basically a piece of history that you can taste - and not easily forget - made with fried octopus and turnips, ricotta cheese, cooked fig must and anchovies oil.
Ingredients
250g fried octopus
turnips with garlic and oil
cooked fig must
ricotta cheese and pepper
anchovies oil
Panino al salmone
The taste of certainty
Always available, like those who know what it means to be good for real: a Pescaria best seller you can't say no to. The successful dialogue between salmon, fried courgette and pepper mayonnaise. More than a sandwich, it is a bay sheltered from the wind.
Ingredients
100g salmon tartare
fried courgettes
fiordilatte mozzarella
lettuce
sun-dried tomato pesto
roasted pepper mayonnaise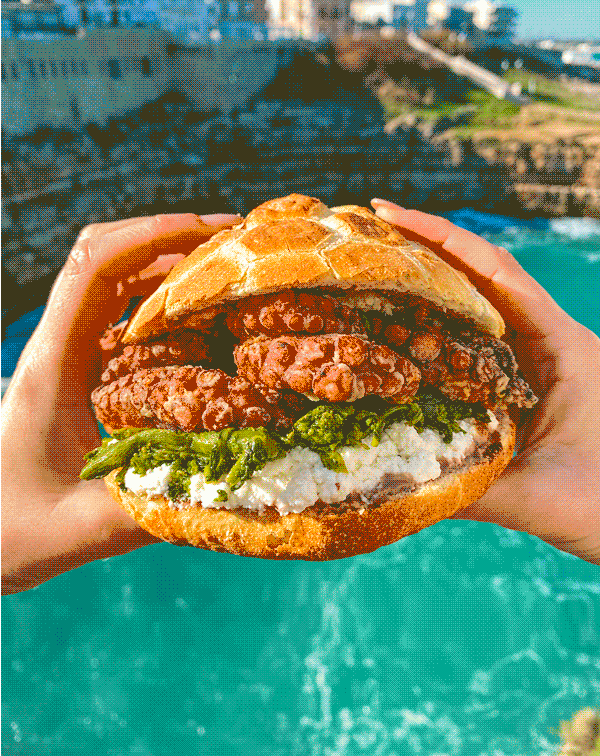 DO YOU WANT A TAKE AWAY?
Look at the menu and the wine list, order what you prefer and pick it up without waiting: show us where you take us!
ORDER YOUR TAKE AWAY NOW